Alberta scientist remembered as soft-spoken saviour of Canada's peregrine falcon
CBC News | 7 Jul 2017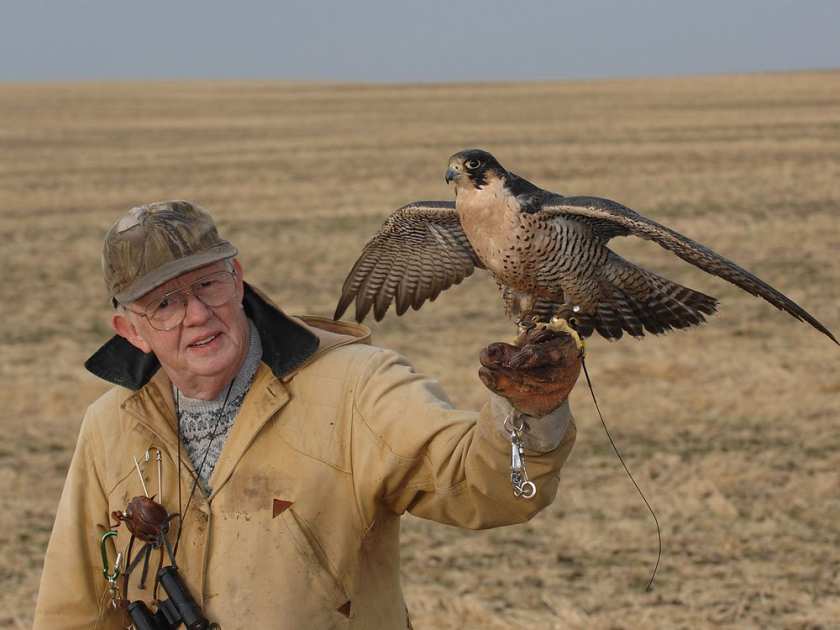 Richard Fyfe displays Lady, the last peregrine falcon he flew. Fyfe ran a recovery program that helped save the peregrine falcon from extinction. (Edmonton Journal)
The man credited with bringing Canada's peregrine falcon back from the brink of extinction is being honoured for his legacy. Richard Fyfe died on June 17. He was 85. "He had a fascination with birds, especially with raptors and falcons. It was a lifelong passion," said provincial wildlife biologist Gordon Court, who delivered the eulogy for his mentor on Tuesday. The late Richard Fyfe, an acclaimed conservation scientist, is widely credited with bringing Canada's peregrine falcon populations back from the brink of extinction. "He was an amazing speaker and amazing thinker."
Born in Saskatoon on Feb. 1, 1932, Fyfe grew up in rural Saskatchewan. He married Lorraine Doll in 1957, and the couple began married life in the far reaches of the Canadian North. Fyfe studied biology at the University of British Columbia and later taught elementary school in remote Arctic communities in Nunavut before starting his career as a conservation research scientist. After spending time in Ontario and New Brunswick, the family finally settled in Fort Saskatchewan, where Fyfe was employed by the Canadian Wildlife Service for more than three decades. Spearheading the peregrine recovery program remains his most notable achievement.
In 1970, a joint American-Canadian panel predicted the bird would disappear from North America by the end of the decade, and DDT was to blame. The long-lasting agricultural pesticide, ingested through contaminated insects, worked its way into the reproductive systems of the birds, causing peregrine populations to plummet across the continent. Eggs laid by the birds had shells so thin, they would crack under the weight of their nesting mothers. Fyfe was not satisfied to watch the peregrine falcon face extinction. He began a captive breeding program in 1970, the first of its kind in Canada, an effort that was met with skepticism. Few believed the falcons would manage to mate in captivity, let alone go on to survive in the wilderness after so much human interaction. But Fyfe proved them wrong. He collected a dozen birds from nesting sites across northern Alberta and set them up in old barns and sheds on his acreage outside Fort Saskatchewan. The birds thrived.
The face of peregrine falcon conservation
Two years later, the government established a breeding program in Wainwright, using Fyfe's original breeding stock to sire hundreds of hatchlings. Hundreds of the birds were released from cliffs, rock faces and city skyscrapers across the country, helping the population grow for the first time in decades.
Fyfe will be remembered for his passion, and for his ability to speak on behalf of conservation worldwide, Court said "He's very well remembered as being the face of peregrine falcon conversation in Canada, but he should also be remembered as one of the passionate scientists who spoke out against the misuse of pesticides," said Court. "He was as sharp as you can get. He was very good at convincing people to go the right way."
He really charmed the king
Court described his mentor as a soft-spoken man with "a considerable amount of charm." He recalled a strange interaction between Fyfe and the King of Saudi Arabia, an avid falconer. During Pierre Trudeau's time as prime minister, Fyfe was asked to provide a white gyrfalcon to the Saudi king, as a gift from Canada. "Richard and the bird were given the entire top section of a 747 jet," he said, and arrived in Saudi Arabia to present the king with a white gyrfalcon. Fyfe was supposed to remain in the background as a bird handler, but when the prime minister was forced to pull out of the meeting at the last minute, Fyfe became an unlikely diplomat. "He was told … don't expect to talk to the king, you don't smile, you don't shake his hand," recalls Court. "But as soon as Richard walked through the door and the king saw that bird, there was a big smile and a big hand pump for him. He really charmed the king and the two of them had a talk so long that it delayed some international function for the king so I like to think Richard may have caused an international incident there."
He was a great Canadian
In March 2000, Fyfe was made a member of the Order of Canada in recognition of his outstanding contribution to conservation efforts. But the honour came after Fyfe retired early amid a storm of controversy and false accusations that he was running an international falcon-smuggling ring. He was eventually vindicated, but the controversy left him feeling alienated from the scientific community. "That's probably the most bitter and controversial part of his career. That spurred an investigation and many careers were ruined. That was certainly my motivation to make a case for him for the Order of Canada and I think that went a long way in making up for that cloud of suspicion." After retiring, Fyfe worked as an environmental consultant, volunteered with a number of conservation organizations, and continued rearing his beloved birds. Fyfe is survived by his wife of 60 years Lorraine Fyfe, five children and 15 grandchildren. A funeral service was held Tuesday at Our Lady of the Angels Parish in Fort Saskatchewan.
"He was a great Canadian," said Court. "He had a remarkable, storied life. I'll sure miss him."
---
Richard Fyfe, biologist whose breeding program saved peregrine falcon from extinction, dies at 85
Madeleine Cummings, Edmonton Journal | 2 July 2017
Richard Fyfe, the Canadian Wildlife Service biologist who helped save the peregrine falcon from extinction, died on June 17 after multiple battles with pneumonia. He was 85 and lived in Fort Saskatchewan.
By the 1960s, scientists were linking sharp declines of peregrine falcon populations in North America with the use of pesticides, particularly DDT. Due to bioaccumulation, the toxic substance built up in the falcons' bodies over time, causing fertility problems and inhibiting enzymes needed to develop strong eggshells. Fearing for the peregrine falcon's future, Fyfe appealed to wildlife directors at the Federal-Provincial Wildlife Conference in 1970 for permission to start a captive-breeding program. Since he had been studying the extent of the problem in Alberta and Saskatchewan and had successfully bred falcons in captivity in his backyard, he was well-positioned to co-ordinate the project.
Fyfe and a small team collected chicks from the few nesting pairs left in the wild and kept them on his property in Fort Saskatchewan until a facility at the Canadian Forces Base in Wainwright was ready in 1973. The recovery program was controversial at the time. Some criticized keeping birds in captivity and others doubted the young would be able to survive after being released into the wild. Fyfe's team experimented on species that were less at risk and came up with creative ways — such as monitoring falcons' behaviour via closed-circuit televisions — to find compatible pairs for mating. The team became the first to see their falcons return from the wild and become parents. This success led to the reintroduction of peregrine falcons in places where they had all but disappeared. By the time the Wainwright facility closed in 1996, his team had raised more than 1,500 falcons for release. Peregrines were taken off the endangered species list three years later.
Fyfe was invested as a member of the Order of Canada in 2000 for his role in the peregrine falcon's recovery, but this honour came after his retirement and after he was falsely suspected of running an international falcon-smuggling ring. The theory that Fyfe's program could be a front for sending endangered falcons to the Middle East was based on the assumption that peregrines could not be raised in captivity. An extensive audit and investigations by his own department and law enforcement officials in Canada and the United States found no evidence to support the claim of smuggling. "We could account for every egg," said Geoff Holyroyd, who supervised Fyfe and took over the recovery program in 1988. Although Fyfe was vindicated and his director apologized for the strife he had endured, the accusations still stung and he sought early retirement.
'A natural with birds'
Although his career with the Canadian Wildlife Service ended in the '80s, Fyfe kept busy by working as a consultant for power companies and preparing educational videos for schoolchildren about wildlife. Fyfe was born in Saskatoon in 1932 but grew up in Kindersley, Sask. According to Lorraine Fyfe, his wife of 60 years, he loved birds as a boy but understood as a teenager that it was more socially acceptable to play hockey or go hunting. Carrying the gun his father gave him, he would venture into the prairie to shoot gophers but end up watching birds. He picked up falconry and learned how to mimic bird sounds. With a gift for patience that later lent itself well to wildlife photography, he could spend hours sitting and waiting for birds to arrive. "They would come to him, comfortable," his wife said. "He was just a natural with birds." The couple met through her brother and were married in 1957.

Richard Fyfe holds a hybrid Prairie-gyrfalcon cross that he raised on his acreage. Ian Scott / The Edmonton Journal
After studying biology at the University of British Columbia, Fyfe worked as an elementary school teacher and principal in northern communities. He helped write science curriculum tied to the Arctic region before heading off to work for the Canadian Wildlife Service in Sackville, N.B. He and his wife later settled in Fort Saskatchewan and raised five children. Fyfe's eldest son, Ken, remembers skipping weeks of school in June so he and his brothers could float down the South Saskatchewan and Bow Rivers with their father. Spotting falcons, scrambling up the cliffs to band them and camping out at night formed some of their most cherished memories.
Although he was soft-spoken, Fyfe was also persuasive. During the eulogy for his mentor, the provincial wildlife biologist Gordon Court explained how Fyfe used his considerable charm to advocate for conservation, adding that he was a "master of the great, slow smile." Phil Trefry, who was the first employee at the captive-breeding facility in Wainwright, recalled Fyfe diffusing a heated scene at a conference decades ago. Several hundred scientists were arguing about who should run a captive-breeding program and Fyfe stood up and spoke for 10 minutes about pooling resources and knowledge to work together to save the species. "Nobody interrupted him, everybody listened, and he basically said that peregrine falcons don't have time to bicker and fight like this," Trefry recalled. "It changed the tone of the whole room," he said. "I've never seen anything like it."
---
Obituary from the Edmonton Journal, June 20th, 2017
Richard William Fyfe led a storied life. Born in Saskatoon on February 1, 1932, he grew up in rural Saskatchewan. He married Lorraine Doll in 1957, and the couple embarked on the first of many adventures. After a three-year term as both an elementary teacher and principal in remote arctic communities in Nunavut, he entered into his lifelong passion as a conservation research scientist. From Ottawa, Ontario to Sackville, New Brunswick and finally settling in Fort Saskatchewan, Alberta, Richard was employed by the Canadian Wildlife Service. Perhaps his most noteworthy contribution was his work spearheading the peregrine recovery program, which brought the peregrine falcon back from the brink of extinction. In March 2000, he was awarded Canada's highest civilian honour, the Order of Canada, in recognition of this outstanding contribution to his country.
Richard's life embodied the values of hard work, integrity and pursuing one's passions. He was a devoted father and loving husband, encouraging his five children to embrace every opportunity that life offered. Richard was an active member of the community, involved in organizations such as Rural Crime Watch, and coaching children's hockey. His involvement as an instructor of the Christopher Leadership Course touched many lives over several decades.
Richard will be lovingly remembered by his wife of 60 years Lorraine Fyfe, and their children Kenneth (Michelle), Kipling (Victoria Brilz), Maureen (Sylvain LeClerc), Kelly (Wendy), and Carolyn (Greg Thompson). He is also survived by his grandchildren Melanie Fyfe, Nolan Fyfe, Ryan Fyfe (married to Luisa), David Fyfe, Alison Hilborn (married to Ben Hilborn), Etienne Leclerc, Joel Leclerc, Nathan Fyfe, Matthew Fyfe, Jason Fyfe, Rachel Fyfe, Michael Fyfe, Stephanie Thompson, Chelsea Thompson, and Scott Thompson. He is also survived by his great- granddaughter Rihanna Fyfe. Richard was predeceased by his mom, Agnes Fyfe, and his father, William Fyfe, and his brother Barry Fyfe (Loverne).
Funeral service will be held Tuesday, June 20, 2017 at Our Lady of the Angels Parish in Fort Saskatchewan at 11:00 a.m. In lieu of flowers, donations can be sent to: The Heart & Stroke Foundation, 100-119 14th Street NW, Calgary, Alberta 403-264-5549 www.heartandstroke.ca or The Nature Conservancy of Canada, Suite 400, 36 Eglington Ave W, Toronto, Ontario M4R 1A1 1-800-465-8005 www.natureconservancy.ca
In 2011 we named one of the Radisson Hotel in Winnipeg after Richard. This is Fyfe.